Home of the
Lifetime Warranty
Limited Time Offer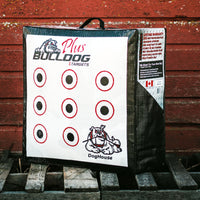 Doghouse FP Archery Target - Plus Series
$79.19
Regular Shipping 14.95
Or buy 2 and get free shipping!
The world's only Lifetime Warranty archery target. It's portable to take anywhere, features 2-finger arrow removal, and strong enough to stop the fastest bows on the market.
Why Choose The Plus Series
Portable, lightweight and Strong
All Bulldog Target are built tough as nails! Unlike bag style targets, Bulldog targets are built in a wooden frame. This offers strength and rigidity. This feature allows us to pack them to an optimal amount, given you the best target on the market today!
Plus Series
The internals of our new plus series targets offers ease of pull, and superior stopping power. With two-finger arrow removal from any poundage bow or cross-bow. Archers can enjoy an evening of shooting without the difficulty of pulling out stubbornly stuck arrows in a target. It's literally that easy.
Lifetime Warranty
Alot of people ask what our warranty is all about.. Pretty simple. If you wear out your woven faces we send you this! They easily staple on over the old faces. If stopping power is the problem, send it back. We'll re-stuff it, put new faces on it and ship it back... Bam!! you're covered.
Have Questions

Email us at
sales@bulldogtargets.com

Call us at
204 800 3170
Get the Deal
Check out our other products